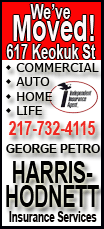 A supper with a medley of sizzling hot soups and pulled-pork sandwiches was offered at the Veterans of Foreign Wars Post 777 Hall on the south side of the square, across from the courthouse.

In the town's museum next door, entertainment was provided by vocalist Jennifer Wernsing, with her mom, Karen, on the keyboard. Eight-year-old Evan Cyrulik won the museum's

"History Hunt Contest," hugging his newly won "Lincoln Log Cabin," full of 2-dollar bills, for the remainder of the evening. Complimentary cookies, punch and coffee were provided by the museum ladies.

Three gift shops on the west side of the square were open, with Buff's Restaurant serving a prime-rib dinner. Complimentary hot cider and cookies were offered in the courthouse, with Bob McCue hosting two sessions of Abraham Lincoln stories in the upstairs courtroom where once Abe, Judge David Davis, Steven A. Douglas, Samuel Treat, William Herndon, Samuel C. Parks, Lionel Lacy, William Young and others paced the old wooden floor, which is yet preserved.

The names of all 2011 Mount Pulaski deceased were read, each receiving a loud gong on the 1860s bell that once hung in the courthouse belfry, but now is on display down on ground level on the south side of the courthouse lawn.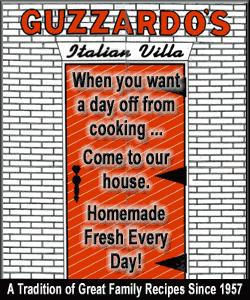 Tom Martin, who chaired the 175th anniversary celebration, reported that the original goal of $100,000 was met with a $100,400 response, with $100,200 spent on the year's various festivities. He concluded with some cheerful, grateful remarks on the town's continued camaraderie and the notice that the new offshoot organization will be the Mount Pulaski Courthouse Foundation, which will provide ongoing financial support for the repair and maintenance of Mount Pulaski's historic courthouse, one of two remaining original standing courthouses on the 1850s Illinois 8th Judicial Circuit.
[Text by PHIL BERTONI - photo by ALLEN SCHAAL]